---
Veal Cutlets "Saltimbocca" with sage and Prosciutto Cotto Gran Biscotto Rovagnati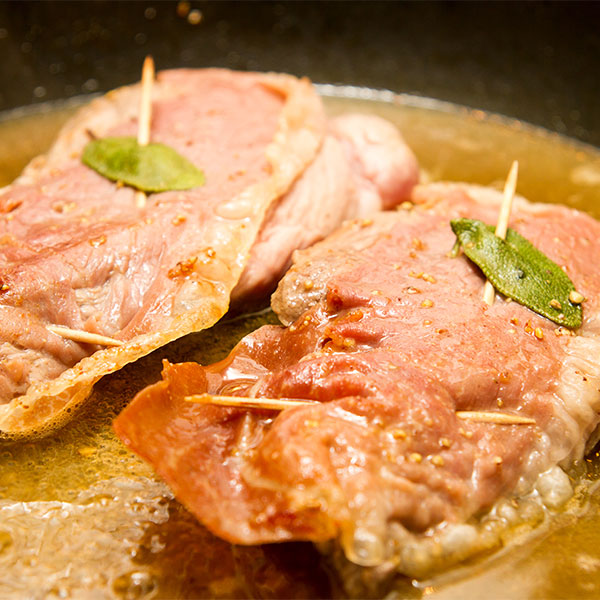 INGREDIENTS
1 lb scaloppini or cutlets of veal sliced wafer thin
1/3 lb Prosciutto Cotto Gran Biscotto Rovagnati thinly sliced
8 sage leaves
Flour
Salt and freshly ground black pepper
4 Tbsp butter
1 Tbsp olive oil
1/2 cup dry white wine
Place a smaller slice of Prosciutto Cotto Gran Biscotto Rovagnati over each thin veal slice.

Put the sage leaf in the middle and roll the veal in a neat, sausage-like shape. Secure with a cocktail stick.

Dredge in flour mixed with salt and pepper. Heat half the butter and oil in a large frying pan and as soon as the butter foam begins to subside, put in the meat rolls. Brown on all sides.

The rolls should become quite golden, not pale beige. Heat the wine in a separate saucepan and pour over the saltimbocca.

Raise the heat and bubble the wine away for 1 minute. Transfer the saltimbocca to a heated dish, remove the cocktail sticks and keep warm.

Add a couple of tablespoons of boiling water to the pan and then add the remaining butter bit by bit while swirling the pan around. Taste and check for seasoning.

Pour the sauce over the meat and serve at once on warmed plates.
INGREDIENTS
1 lb scaloppini or cutlets of veal sliced wafer thin
1/3 lb Prosciutto Cotto Gran Biscotto Rovagnati thinly sliced
8 sage leaves
Flour
Salt and freshly ground black pepper
4 Tbsp butter
1 Tbsp olive oil
1/2 cup dry white wine