---
Saffron Risotto with Prosciutto Cotto Gran Biscotto Rovagnati, peas and parmesan shavings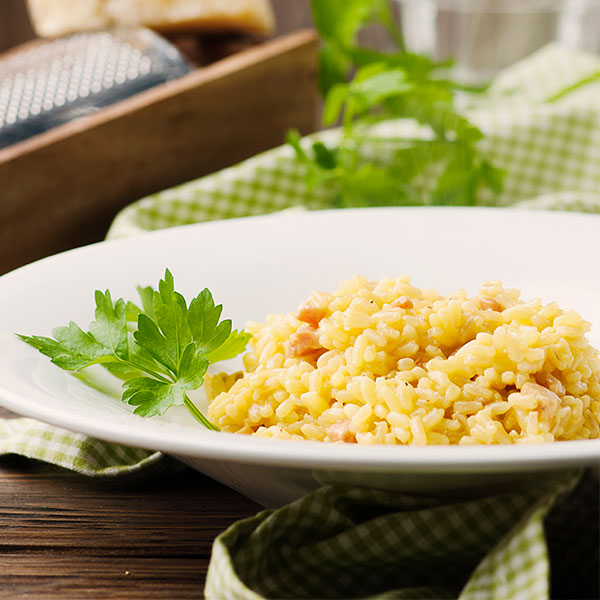 INGREDIENTS
(4 people)

1 ¾ cups rice (Vialone Nano Classico Melotti)
0.2 gr saffron (1 sachet)
1 1/3 cups peas
¼ lb Prosciutto Cotto Gran Biscotto Rovagnati
4 Tbsps butter
2 shallots
4 cups vegetable broth
½ cup Parmigiano Reggiano
Garlic
Heat the olive oil in a pan. When well-heated, add the shallots and peas and a sliver of garlic.

Add the rice (Melotti Vialone Nano Classico) and leave to cook, adding the vegetable broth a little at a time.

Stir occasionally to keep the rice from sticking.

Cook for about 15 minutes. Add the powdered saffron and the cubes of Prosciutto Cotto Gran Biscotto Rovagnati. Salt and pepper to taste.

Gently coat with butter and add the Parmigiano Reggiano.

Garnish with thin Parmigiano Reggiano shavings.
INGREDIENTS
(4 people)

1 ¾ cups rice (Vialone Nano Classico Melotti)
0.2 gr saffron (1 sachet)
1 1/3 cups peas
¼ lb Prosciutto Cotto Gran Biscotto Rovagnati
4 Tbsps butter
2 shallots
4 cups vegetable broth
½ cup Parmigiano Reggiano
Garlic