---
Fresh homemade pasta roses stuffed with Prosciutto Cotto Gran Biscotto Rovagnati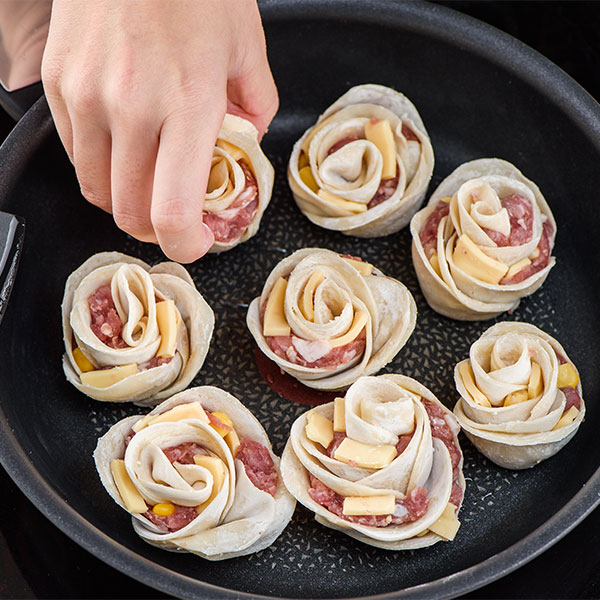 INGREDIENTS
(4- 6 people)

For the pasta and filling:
1 lb fresh pasta sheets, store-bought or homemade
½ lb Prosciutto Cotto Gran Biscotto Rovagnati, thinly sliced
½ lb baby spinach, cooked and chopped
¼ lb Parmigiano Reggiano, grated

For the sauce:
2 cups milk
2 Tbsps butter
1/3 cup all-purpose flour
1 Tbsp tomato 'passata' (crushed tomato sauce)
Salt & pepper to taste
Cut the sheet of pasta into 15-by-5-inch rectangles. Quickly cook them in boiling water. Dry and layer them with the slices of Prosciutto Cotto Gran Biscotto Rovagnati, fontina, and spinach.

Sprinkle with some Parmigiano Reggiano, roll them up jelly-roll style and slice in half. To make the sauce, make a béchamel but add to the melted butter the tomato passata and the flour.

Take a baking pan, cover its bottom with the tomato-béchamel sauce, and place the filled rolls standing on their ends. Using a pair of scissors, make 5 or 6 cuts of about ½-inch in one end of each roll to give it the appearance of a flower.

Top with the remaining sauce and Parmigiano Reggiano, and bake in the oven for about 15 minutes.
INGREDIENTS
(4- 6 people)

For the pasta and filling:
1 lb fresh pasta sheets, store-bought or homemade
½ lb Prosciutto Cotto Gran Biscotto Rovagnati, thinly sliced
½ lb baby spinach, cooked and chopped
¼ lb Parmigiano Reggiano, grated

For the sauce:
2 cups milk
2 Tbsps butter
1/3 cup all-purpose flour
1 Tbsp tomato 'passata' (crushed tomato sauce)
Salt & pepper to taste