---
Chicken breast stuffed with Prosciutto Cotto Gran Biscotto Rovagnati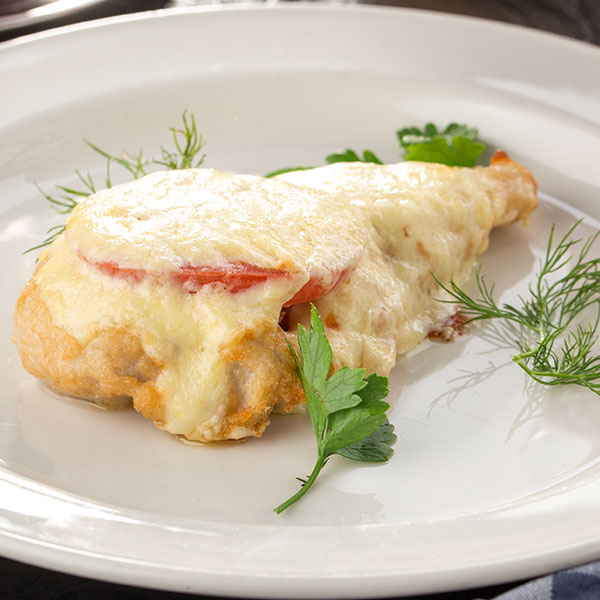 INGREDIENTS
2 chicken breast slices (approximately 1 lb)
4 slices of cheese (mozzarella)
3 oz Prosciutto Cotto Gran Biscotto Rovagnati
1/3 cup white wine
2 Tbsp di extra virgin olive oil
1 pat of butter
Flour
Salt, pepper, and nutmeg
Cut the mozzarella into slices.

Remove the fat from the Prosciutto Cotto Gran Biscotto and cut each piece in half.

Pat each piece dry.

Pound them if they are too thick, delicately without splitting them, then dredge in flour.

Sautee the onion and garlic in a pan until golden brown, then add the meat.

Cook the pieces for several minutes on a high flame until they are even in color.

Add the white wine and let it evaporate over a high flame, turning the pieces occasionally.

When the wine has evaporated and the pieces are golden, approximately 2-3 minutes, place a slice of mozzarella on each piece of meat.

Turn off the burner, cover and let rest some minutes.

Add ground pepper and nutmeg, then serve.
INGREDIENTS
2 chicken breast slices (approximately 1 lb)
4 slices of cheese (mozzarella)
3 oz Prosciutto Cotto Gran Biscotto Rovagnati
1/3 cup white wine
2 Tbsp di extra virgin olive oil
1 pat of butter
Flour
Salt, pepper, and nutmeg