---
Cappellacci with Prosciutto Cotto Gran Biscotto Rovagnati, butter and sage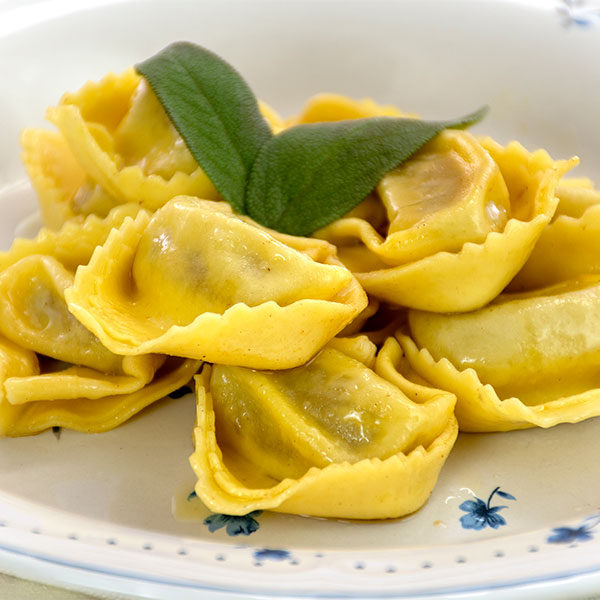 INGREDIENTS
(6 people)

For the filling:
12 oz Prosciutto Cotto Gran Biscotto Rovagnati, shredded
6 oz roasted chicken, shredded
½ cup Parmigiano Reggiano Vacche Rosse or Grana Padano
½ cup ricotta
½ cup melted butter

For the pasta:
2 cups all-purpose flour
9 egg yolks
4 Tbsp water For the egg wash:
1 large egg, beatens
Kosher salt, for the pasta water

For the sauce:
1½ sticks unsalted butter
½ cup Parmigiano Vacche Rosse or Grana Padano, grated
Optional: traditional balsamic vinegar
For the filling: Shred the chicken and the Prosciutto Cotto Gran Biscotto Rovagnati, blend with the ricotta and grated cheese and melted butter. Mix well.

For the pasta: To make cappellacci, cut the pasta dough into 4 pieces and roll them all through the pasta machine at progressively narrower settings into sheets, 6-inches wide, or as wide as your machine allows.

Cut the sheets (crosswise) when they stretch longer than 20-inches. Roll the shorter sheets until the pasta is quite thin, consistently keeping the sheets about 6-inches wide.

Lay one sheet of dough on a lightly floured surface, with the long edge running left to right in front of you. With your hands or a rolling pin, stretch the dough gently top to bottom — that is, make it a bit wider than 6-inches so you can fold it over the filling.

Drop a rounded tablespoon of filling on the bottom half of the sheet, every 3-inches, from left to right. Using a pastry brush dipped in water, moisten the edges of the sheet and in between the mounds of the filling to help the dough stick together.

Now fold the sheet over the filling, so the top edge aligns with the bottom. Press the dough lightly so it adheres and encloses the filling. Run the pastry cutter in between the mounds, creating 3-inch square cappellacci. Press the edges of the squares to make sure the pasta has sealed.

Set the cappellacci on a lightly floured tray; stretch and fill all the rolled sheets in the same way. To cook the cappellacci, bring 8 liters of salted water to the boil in a wide pot. Drop the cappellacci into the boiling water and return it to the boil.

Cook 3-4 minutes, gently stirring and turning the cappellacci to keep them from sticking. When they're cooked through (test a thick edge of pasta) lift them from the pot with a slotted spoon, drain off excess water and slide them into the sauce.

Then, lay the cooked ravioli in the pan, and coat jthem with the hot butter. Remove the pan from the heat, and sprinkle with the grated cheese, mixing gently so the cheese begins to melt into the sauce. Add a drizzle of traditional balsamic vinegar if you wish.
INGREDIENTS
(6 people)

For the filling:
12 oz Prosciutto Cotto Gran Biscotto Rovagnati, shredded
6 oz roasted chicken, shredded
½ cup Parmigiano Reggiano Vacche Rosse or Grana Padano
½ cup ricotta
½ cup melted butter

For the pasta:
2 cups all-purpose flour
9 egg yolks
4 Tbsp water For the egg wash:
1 large egg, beatens
Kosher salt, for the pasta water

For the sauce:
1½ sticks unsalted butter
½ cup Parmigiano Vacche Rosse or Grana Padano, grated
Optional: traditional balsamic vinegar